Summerfield Dumpster Rental
Renting a dumpster in Summerfield is definitely the most economical of all waste management options especially when the waste or junk that needs to be disposed of is from a large project. It also makes smaller projects more manageable as even a small roll off bin, has at least four times the capacity of a pick-up truck, and is able to ensure a more convenient disposal of waste. The Summerfield dumpster rental company you select, should however be a professional service that offers reliable waste management solutions. Foothill Waste Solutions offers fast, dependable dumpster rental service in Summerfield, NC. Call us at (336) 871-4055 to rent a dumpster in Summerfield today.
Holds 3x Pickup
Truck Loads
Holds 3x Pickup
Truck Loads
Holds 3x Pickup
Truck Loads
We Take Just About Everything
Some examples of the junk we haul away include
Refrigerator Disposal

Garbage Removal

Mattress Disposal

Foreclosure Clean Outs
Construction Waste Removal

Yard Waste Removal

Trash Removal

Appliance Removal
Television Disposal & Recycling

Furniture Removal

E-Waste Disposal

Hot Tub Disposal
Rent a Roll-off Dumpster in Summerfield
Rent a roll-off dumpster in Summerfield and enjoy a smooth waste removal process, as you will be able to get rid of any garbage or junk generated by your project fast and in a convenient way. We have a wide range of dumpster options to ensure that no customer who needs a roll off dumpster, fails to get the appropriate size dumpster rental for their project. We have a variety of dumpster options to suit diverse projects. Foothill Waste Solutions is committed to providing all customers in Summerfield with the most dependable and affordable dumpster rental services.

Residential Dumpster Rentals - We have a wide variety of affordable roll-off dumpsters that are designed to suit any kind of home improvement project. Get a budget dumpster rental today and get rid of all the resultant waste, without breaking the bank. No matter what home renovation or residential improvement project you got, we got you covered.

At Foothill Waste Solutions, you will get all the standard roll off dumpster sizes available in Summerfield, NC. We have roll off rentals ranging from small containers designed for waste management from small projects as well as large roll-off containers that are designed for projects such as; hauling away bulky items like furniture, as well as large quantities of unwanted waste, in a single trip. The dumpster rental sizes we have include; 10-yard dumpsters, 15-yard dumpsters, 20-yard dumpsters and 30-yard dumpsters.

Commercial & Construction Dumpster Rentals - When you are looking for construction dumpster rentals or commercial dumpster rentals in Summerfield, NC; look no further because we are the leading dumpster rental provider in Summerfield, for small and large dumpster rentals alike. We have a large dumpster that at 30 cubic yards, can haul up to 6 tons of waste when fully loaded. All our rental dumpsters are designed to be safe and easy to load and you can always get excellent customer service from our representatives all through your rental.

Summerfield Dumpster Rental Sizes
Knowing how to tell apart the Summerfield dumpster rental sizes available for rent is important and will determine the outcome of your rental. This is why if you are renting a dumpster in Summerfield for the first time, you should not guess and select a roll off container without knowing how to choose the right size container. We have included information about the capacity of each dumpster we rent out, and you can also call us any time to speak with one of our representatives in case you need some assistance.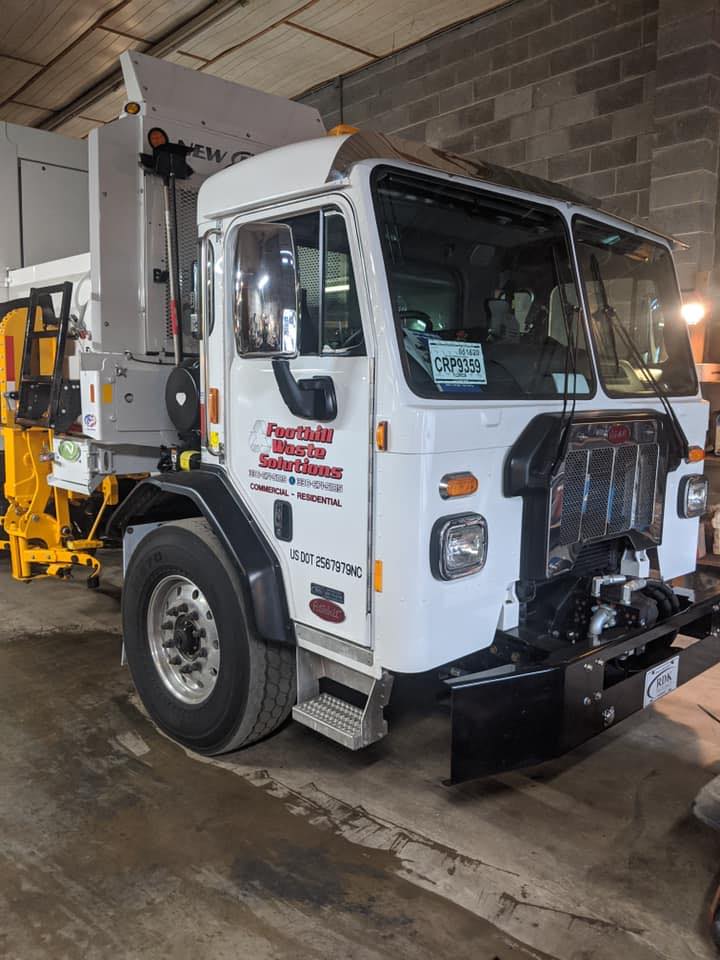 How To Rent A Dumpster in Summerfield?
At Foothill Waste Solutions, we have made it very simple for anyone who needs a waste dumpster to rent a dumpster in Summerfield. Just give us a call at (336) 871-4055 or visit our website to order a rental dumpster and book a delivery date that is suitable for you. Remember to enter accurate delivery details before scheduling a delivery to make it easier for our team to deliver your roll-off on time and exactly where you want it delivered.

You may be required to have applied for and obtained a dumpster permit from the local office, before getting a dumpster delivered, if you do not have placement space on your yard or driveway and have to use the side of a street or other public area to park your dumpster.

Contact us today to get cheap roll off dumpster rentals in Summerfield, NC

The Summerfield Dumpster Rental Service You Can Rely On
Foothill Waste Solutions offers the most affordable roll off dumpster rental prices in Summerfield for all dumpster options. Our roll off rentals are designed for use in commercial & industrial waste removal as well as residential and construction projects. We are the Summerfield dumpster rental service you can rely on for small and large dumpster rentals in the city. You can count on us for the most flexible rental terms as well! We also have dumpster rentals in Walkertown, NC.